Please Note: This post may contain affiliate links. Please read my disclosure (link) for more info.
Handwriting — is the one attribute that is crucial to all humans. To learn the same, one can look into various strategies, books, and pedagogies to brush up on their special skills. Apart from this list,  special individuals may need to focus on their shortcomings related to writing. Along with hacks and activities, they also may need some assistive tools to make them compete with others. 
The handwriting tools that we have listed not only are easy to use but also add great value in improving the efficiency of writing. Traverse through the following lines to acknowledge all the insights about these tools to choose and apply now.
Handwriting tool for the special- How does it help?
Handwriting tools are assistive aids for special children to make the learning of the same easier. These may either provide better grip and strength to hand or make writing easier in any other form. Here are a few insights that outline the importance of handwriting tools:
These tools are designed to integrate with the writing flow of the special aspirants. By this, they can ensure independence in their writing tasks.
With handwriting tools, individuals can get closer to the competition by facilitating faster and more efficient output.
Special individuals can become reliable employees with a warranty on their tasks.
Apart from self-dependence, these tools offer relatively inexpensive and quick solutions for handwriting-related challenges.
Longcamp[1] right marks that the ability to recognize shapes of letters and other attributes is ensured through handwriting. With assistive handwriting tools, individuals can ensure to grasp all of these effortlessly.
Handwriting tools for assisting special needs individuals
Handwriting tools must be picked according to the specific need of the special child. Most of these tools work on the fine motor controls of the hand and wrist, which strengthen the way the child writes! Let's have a look at some of the handwriting tools that have proved to be helpful.
1. Hand and wrist cover without weights
Sometimes, special individuals may need more power in their forearms to bring about better handwriting on paper. They can use hand and wrist covers to aid their condition. This tool basically provides deep pressure input to the forearms of the student. This can improve the kinesthetic feedback and sensory awareness- thereby better writing.
This tool is easy to carry and can be used in any place like a classroom, or in ant therapy sessions too, They are skin-friendly and water-resistant and comes with quality elastic straps for long-lasting grip.
2. Weighted gloves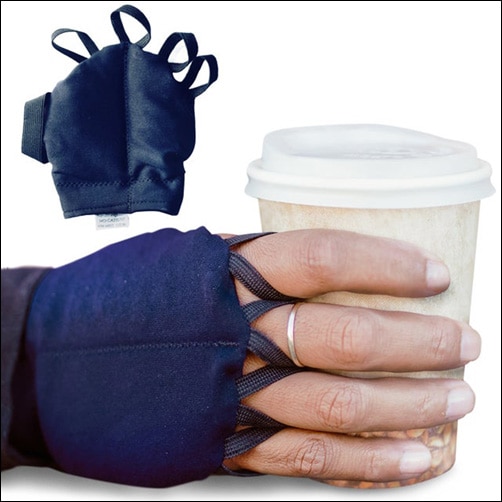 When the individual needs support in both wrist and ankles, they can look into using weighted gloves. These come with multiple support systems to aid fingers, ankles, and wrists- providing a better grip on the hand to write.
This glove comes with a unique weight proposition that can assist motor activities and exercises related to handwriting. These come in varying sizes to fit various sizes of hands. These are often made of good quality to ensure durability.
3. Slant Writing slope
Some disabled may feel it arduous while writing on a horizontal surface like tables. They can be assisting by elevating the plane to a comfortable degree. To ensure the same, a slanting writing slope can be used to give out a specific slant to the writing plane.
These tools come with varying options to slant. This means that the users can change the orientation if needed. They are durable and are collapsible to easily store and carry into places. They are handy and can be an alternative to ordinary writing boards
4. Writing Grips
Most pens and pencils come in a specific size and width. Some special students may face problems getting a grip on the thin tool. To assist this, writing grips can be placed on them to add to the breadth. This way, the individual can better hold the pen/pencil to write better.
They are made of safe materials and can be used by toddlers as well. These often come in different sizes, from which the user can choose one from. Also, these tools answer chronic hand pain issues too.
5. Graph paper
Graph paper is often an unnoticed assertive tool for handwriting. While graph sheets are often used to draw statistics and other graphs on paper, they can be helpful for better handwriting tools. These come with grids of varying sizes, which the special children can abide by while writing. This way, they can gradually learn to write proportionate letters, numbers, and symbols.
Students can either procure graph sheets, or books to proactive their handwriting. Later they can shift to other sheets to learn proportional handwriting. The users can also make use of rulers to organize things better.
6. Pencil/pen Holder
Some individuals may face problems holding the pen/pencil in the right direction while writing. Holders can be used to keep them in place at a predetermined angle. Basically, these are wrist banks with an extension to place a pencil/Pen in it. On the other side, there is a string that the writer holds for writing.
People can learn writing with a better grip on pencils with proper implementation. It comes with trendy color and light right- making it easy to carry and use anywhere. Also, this can be used for longer durations, as it is made of smooth cotton Knit material.
7. Chewy Tops For Pencils
Some special students may have a habit of chewing pencils while they think of writing something. It is an unhealthy habit. As a solution for the same, the caretakers can use chewy tops for pencils.
These tools are prism-shaped soft chewable caps that can be fitted to the back of the pencil.
Next time, if the student wants to chew, they can act on these caps instead. What makes them preferable is that they are safe for children. These chewy tops are free from harmful latex and are a reliable product.
Features of these handwriting tools
Logically, handwriting tools are made to assist individuals with their challenges. To add convenience to the users, here are a few noteworthy features that our suggested tools offer:
Create a scope for better writing practice. These tools when appropriately chosen can assist in better handwriting. Be it in any form, they not only add to the comfort but also create better scenarios to write. For instance, Slanted writing slopes can elevate the paper for easy writing.
They are made of safe materials. All of our handwriting tools are made of safer materials. This means that they can be reliable for use by young students too. Say, chevy pencil in our suggestions is latex-free therapy is safe.
These tools are often durable. The choices that we have provided here are meant to be used for longer durations and thereby are often made durable. With appropriate use and maintenance, they can last decently long.
Easy to carry wearables. Most handwriting tools are convenient to use. When it comes to wearables, they are easy to put on remove, and can be placed in bags after use
Can be used anywhere. These tools are often decent in their looks and thereby special individuals can use them almost anywhere. Also, they offer the next level of confidence to start.
Concluding thoughts…
For any special person with handwriting issues, assertive tools can come in handy. The underlying motto is to improve the grip of the person on the pen/pencil or to create a scope for better writing. All the above picks adhere to these postulates and can prove to work almost instantaneously when appropriately employed. Traverse through the above picks and see which of these can be a suitable solution for you.
References:
Longcamp, M., Zerbato-Poudou, M. T., & Velay, J. L. (2005). The influence of writing practice on letter recognition in preschool children: A comparison between handwriting and typing. Acta psychologica, 119(1), 67-79