Last Updated on October 8, 2022 by Editorial Team
What can I do to make phonics interesting for kids? Often you find yourself asking this question. Phonics is the basic language skill that forms the base for other English skills like word formation, letter-sound recognition, vocabulary, etc. We have covered a lot of apps, games, etc. to teach phonics to toddlers in our previous posts. In this post, we acquaint you with gamified phonics activities that can engage kids in learning this basic linguistic skill.
How effective activities are for learning phonics?
Phonics can be overwhelming for beginners because learning to read through various techniques is not something they are familiar with (Flesh in the book Why Jonny can't Read, 1950). We all speak a language at home, but that language when made available in written text proves challenging as kids are yet to familiarize with the letter-sound relationship concept. By doing activities, a huge gap in learning is bridged in the following ways:
Activities help kids understand the practical utility of words like phonemes, graphemes, digraphs, etc.
By solving questions that require them to arrange letter, find missing letter, match beginning sound with picture etc. kids grasp the basic concept of word formation and correct way to pronounce them
Activities improve logical and analytical skills and enable kids to understand the logic behind the way a word is spelled
Phonics activities strengthen the learning base and allow kids to be prepared for advanced concepts like spelling, word families, vocabulary enrichment etc. Also, learning pronunciation of words becomes easier with mastery in phonics activities.
Phonics activities online are the result of technological interventions being introduced in the education space. These are being adopted with enthusiasm as the results have been appreciable and did manage to develop curiosity towards deeper learning in kids. Let's move on to phonics' online activities list below that can help you enrich your teaching kit conveniently.
5 Gamified online activities to teach phonics to beginners
1. Pick the letter m-z beginning sound
Identification of beginning and ending sounds is the basic skill taught to phonics learners. As a phonics beginner, you have to understand words starting with the same sound. In various reading books, you usually find lots of images along with an alphabet. That format is gamified in this activity. Learners can pick the correct letter from which the image's word will begin. This game offers you an easy and fun way of practicing beginning sounds M-Z. With regular practice, you can create your lexicon of words with the same starting sound.
2. Sound Garden Online
Sound garden activity is an interesting phonics skill enabler. It is based on the concept of phoneme segmentation. The words with monosyllables are arranged in this garden and you have to bring together the segments to form the meaningful word. For example, 'fr' will be added to 'iend' to form the word friend. Make a count of how many pairs you could identify! This online phonics activity allows learners to grasp phoneme decoding and blending required to build spelling skills.
3. Letter Tiles Arranging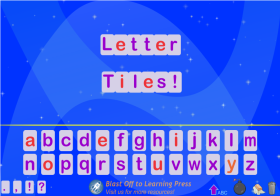 Want to give writing in a book a break? Switch to this activity where you have the freedom to randomly select the letter tiles to form a word. If you want to use this activity as a challenge for kids, you can hand over them a list of words. '
Kids may pick the relevant tiles and move them above the line and speak out the word aloud. A fun element is added in the form of a bomb that explodes when you press it; this action removes the word written and allows you to move to the next word to make with tiles. Going further, you can learn to write small sentence, too, with this word tiles activity.
4. Put pictures in correct column
In almost every phonics class for beginners, you may find an activity that demands you to match pictures with their starting sound. It has been given a drag-and-drop format in this online phonics activity. Kids speak aloud the word displayed in the picture and place it in the relevant column. In the image above, pictures are to be arranged as 'a' and 'b' starting sounds. This activity is a good pretext for developing motor skills; thus, offers dual advantage to little learners.
5. Phoneme segmentation
Identify the object and add letter with relevant beginning sound at the start to complete the word. This online phonics activity teaches you 'an' and 'at' family words. There are several other digraphs, too, included in this activity to give more to kids to engage in phonics learning. This activity is a soft version of filling the missing letter worksheet given to kids in classroom sessions. If you are searching for some teaching solutions to engage your homeschooling kid, this activity collection offers a suitable resource. Regular practice is recommended for sustained familiarity with the beginning sound concepts.
Types of phonics activity resources available online
Phonics awareness-building requires the use of ways that can incline kids to practice more and often. It becomes possible to engage kids in learning happily when you have ample resources in hand. The resources should be safe, easy to use, and help fulfill learning outcomes. A collection of such resources include:
Online worksheets: Have all the printable worksheets based on phonics concept and keep kid engaged in practice
Board games: Several board games are developed in online version to offer gamified learning resource to early phonics learners
Charts and flashcards: You can find online charts and flashcard made available to you through free subscriptions
Video tutorials: Children can interact with a real teacher online to have a classroom-like environment at home during study hour. These tutorials serve as guide on how to do online phonics activities.
Take away
Making learning fun and easy for kids is a challenge, as they tend to get distracted too easily when forced to read books. Adopting a participatory mode of teaching is one of the best solutions that have a positive impact on any child's learning curve. Online phonics activities help get that element of participation and make learning look to kids as easy as playing games. However, make a count of screen time and regulate it often to ensure that kids don't overdo and stress out their eyes!